"Painting is the most magical of mediums, the transcendence is truly amazing to me every time I go to a museum and I see how somebody figured another way to rub colored dirt on a flat surface and make space where there is no space or make you think of a life experience." Chuck Close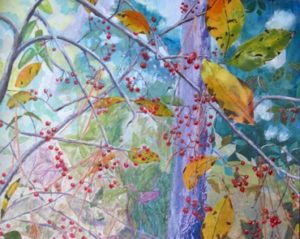 My painting practice involves translating an experience of seeing through color, light, transparency, layering, and expression. I am seeking an intersection between reality and abstraction where a mystery and wondering are created within the work. Sometimes reality is more present and other times abstraction speaks louder but often both are part of the conversation.
I enjoy constructing images with transparent watercolor and acrylic pigments while playing with collage, graphite, oil  pastels, colored pencil, wax & chalk pastels to introduce texture and atmosphere.
I hope to draw the viewer in to explore the beauty that exists in the world that I see and create through my eyes, hands, and heart.
Windows & Reflections,  Figures,  Abstract,  Architecture,  Landscape,  Nature,  &  Still Life