Layered Openings
Solo Show at ERUUF's Eno River Gallery
Hope you can come by ERUUF's Eno River Gallery, 4907 Garrett Road, to see my solo show hanging from May 21st-July 1st.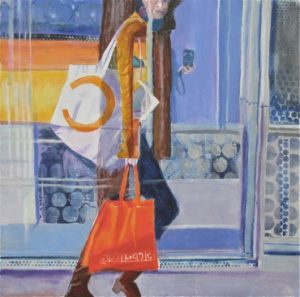 'Layered Openings' has grown from a 30-year obsession with windows, which began with Photography, moved to Watercolor, Collage, and more recently manifested in Mixed Media works. As I look at windows, I see another world before me in layers that reveal and obscure color, light, shadow, form and reflection. I enjoy the ambiguity of what is presented and follow this uncertainty as the stories emerge.
The architectural structure creates a framework that sets up the drama and mystery of views inward and views outward. The interior space and sill become the stage for a still life, a cat sitting, a doll's head resting, a table waiting, and viewers gazing. The presence of glass produces optical distortions and magical happenings, which illuminate confused fragments of reality. The opening provides light that captures a momentary vision flooded with mood and atmosphere.
This momentary vision, confusion of reality and quality of light draws me into the space. Complex memories of the moment and careful looking lead to the creation of paintings playing with color vibration, pattern, and rhythm. Working from photographs, value and hue studies, I translate using color.
Color and material have become a major focus for this series. When building the work, stories unfold through color notes that interact and speak to each other. They speak to me as well guiding the next hue, the next layer, and the next pigment.
The encircling conversation becomes the painting that is built and constructed in a transparent manner. Acrylic paint begins the work as an under-painting or road map for future marks. Hand printed papers and photographic transfers are collaged onto the surface and texture is created by color layered over in oil pastel.
My art is a reflection of my life through that which catches my gaze. I want my work to be beautiful. The kind of beauty that draws you in, causes you to linger, and moves you to different place.