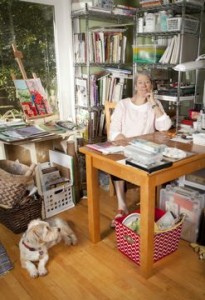 Annie Nashold was born in Montreal, Canada and grew up in Durham, North Carolina. She graduated from Duke University with a degree in Art Studio and with studies in Art History and Religion. Annie studied with John Menapace and has had photographs published in 'Latent Image'. She also attended Penland School of Crafts for photography.
Cooking and baking became her first profession. She studied at Cornell Hotel and Restaurant School and worked in restaurants in Connecticut and North Carolina. Annie was chef and owner of her own catering company.
Annie left the food business to become a Slide Curator for the Duke University Art Department. After three years, she returned to school and did masters work in Landscape Architecture at North Carolina State University School of Design.
As a volunteer, Annie created 'Into the Garden', a children's environmental education program for Sarah P. Duke Gardens at Duke University. She won the J.C. Penney Golden Rule Award for Education and became the director of the program, where she worked for 20 years. The 'Story Circle' Garden in the Charlotte Brody Discovery Garden is dedicated in honor of Annie as founder of Duke Garden's Children's Education Program and for her years of service to the community.
During this time, Annie wrote and self-published 'Native Tales, Plants have Stories to Tell' a teacher resource guide which explores North Carolina native plants through culture, history, and ecology. With grant funding from the Mary Duke Biddle Foundation, every fourth grade teacher in the five counties of the Research Triangle received a copy for use in their classrooms.
Upon retiring in 2011, Annie began painting full time. She has exhibited at the Durham Arts Council, Craven Allen Gallery, St. Philips Church, the Watts-Hillandale Art Walk, and the Duke University Union Gallery. She is enrolled in the Botanical Illustration and Art Certificate Program at the North Carolina Botanical Garden. Annie works as a gallery guide at the Nasher Museum of Contemporary Art at Duke University and she teaches Art and Nature Journaling to children at the North Carolina Botanical Garden.